[Frequently Asked Questions (FAQ) regarding EES advantages (Microsoft Office)
[Outline of the service]
Q1: What is the EES advantages?
A1: please refer to the table below.
EES advantages (Office 365 Education)
Paid/Free
Free
Provided products (*1)
The latest version of Office (Office is upgraded automatically to the newest version whenever a new version is released)
Target devices
Total number of devices for home use: 15

– PC or Mac: 5

– Tablets: 5

– Smartphones: 5

Target users
Students and faculty members (*2)
Use period
Only the target users above who are currently enrolled in the university
Only if Tsukuba University has signed an EES agreement
*1
A few functions that require cloud connection may differ.
For a detailed description of functional differences, please consult the Microsoft helpdesk (refer to A13).
*2
For information regarding target faculty members and students, please go here.
Q2: Is there any way of continuing to use Office 365 after I graduate/complete my studies?
A2: This is not directly related to Office 365, but license service provider Uchida Yoko Co., Ltd. offers "Microsoft Office License Special Plan for Students" at a discounted price. For further information, please refer to the poster put up in University Hall Book Shop (Maruzen) or the Uchida Yoko Co., Ltd. website below:
http://www.uchida.co.jp/education/office/
Q3: I have Office 2013 installed on my home PC. Do I need to uninstall it?
A3: Those who will start using (installing) EES advantages must perform uninstallation (because two or more Offices of the same version cannot coexist). However, if an older version (Office 2010, etc.) is installed, it can coexist with EES advantages. However, this is not recommended by Microsoft due to file incompatibility and other issues.
[Sign up]
Q4: I cannot sign up.
A4: You need to sign up (register) using your "@u.tsukuba.ac.jp" or "@un.tsukuba.ac.jp" email address, which is provided by the University of Tsukuba. If your email address is not accepted, make sure that you have made no typos. Please note that email address ending with "@s.tsukuba.ac.jp" cannot be accepted.
We request students enroll in 2017 or later to read the following website carefully:
https://www.cc.tsukuba.ac.jp/wp_e/service/software-license/ees/tokuten/
Q5:How is this service related to my personally registered Microsoft ID?
A5:Apparently, you can receive some charge-free services from Microsoft by creating a Microsoft ID using your personal email address. That is not related to this service of ours. We do not recommend using your @s, @u or @un email address to create your Microsoft ID. That could cause a problem when you receive services from the University of Tsukuba.
Q6: I am eligible for EES advantages (as a faculty member), but did not obtain a [@u.tsukuba.ac.jp] or a [@un.tsukuba.ac.jp] e-mail account.
A6: In the case of faculty members who are eligible to become users, part-time lecturers and part-time researchers may obtain a [@u.tsukuba.ac.jp] e-mail account.
Regarding applications for the above account or usage procedures for the University Computer System, please go here.
Regarding other target users (faculty members and students), a [@u.tsukuba.ac.jp] or a [@un.tsukuba.ac.jp] account will be issued upon appointment (upon joining the University).
[Sign in]
Q7: I entered the unified verification password but cannot log in.
A7: Logging into the Office 365 Portal requires a new password, which is defined by the user upon signing up for EES advantages instead of the unified verification password.
Q8: I forgot my password.
A8: As explained here, verify your e-mail address and recover your account on-line following Steps 1 through 11.
[Download/install]
Q9: Please tell me how to download/install the product.
A9: Sign into the Office 365 Portal Site from the target device and download/install the program. For a detailed description of the procedure, please consult the Microsoft helpdesk below (refer to A13).
Q10: Is it necessary to input the product key upon installation?
A10: No, it is not. Activation is done by signing in with the University e-mail address, which is an e-mail address that you have defined yourself.
Q11: An error is displayed upon installation and I cannot complete installation.
A11: For technical support regarding installation, please consult the following Microsoft helpdesk.
Microsoft Japan
Student Advantage/Teacher Advantage Helpdesk
Telephone: 03-4530-6175
E-mail:msos@microsoft.com
Working hours: 10:00-17:00 (except Saturdays, Sundays, and holidays, including our own designated holidays)
Q12: The following screen was shown after installing Office on my Mac with EES advantages. Which item should I choose?
A12: Select (1) "Sign in using existing Office 365 subscription".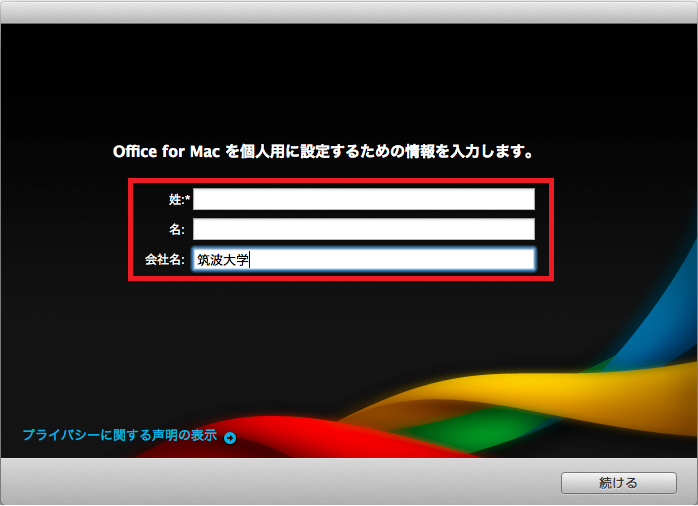 (2) Input the University account (@u) or (@un).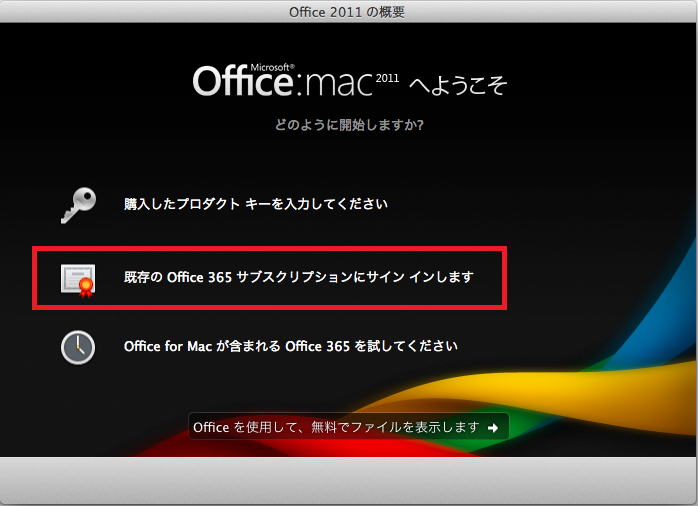 (3) Input the user ID and the password registered upon sign up.
* Remark: there is no password for unified verification.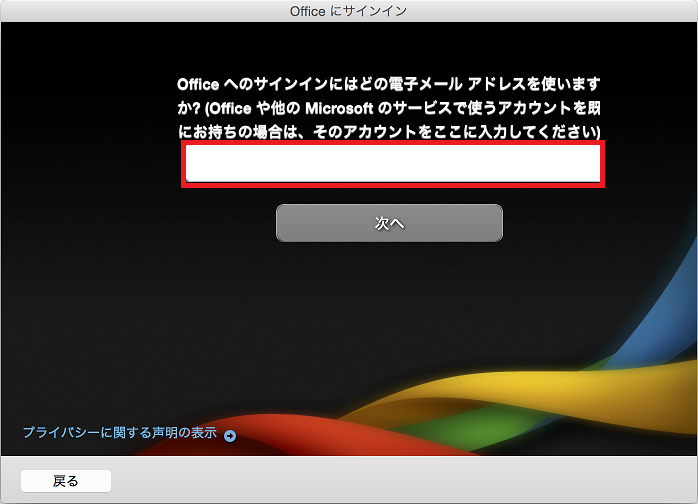 (4) Input other necessary information (last and first name, university name, etc.)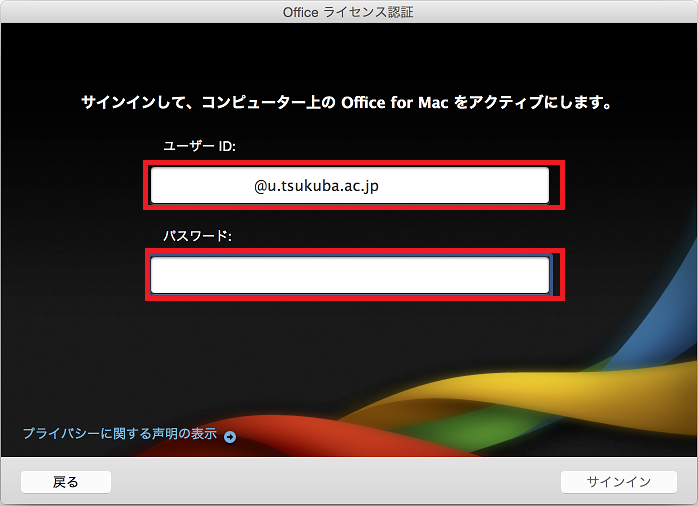 [After installation]
Q13: Is it possible to change the device to be used?
A13: Yes. It is possible to confirm/change the device to be used on the management screen of your own Office 365 portal site. For devices you no longer use, if you perform "deactivation" and uninstall the program, it will be excluded from the device number count.
Q14: Is it possible to use it off-line?
A14: As on-line license verification is performed on a regular basis, utilization must be, in principle, on-line. (Verification is performed upon signing into your Office 365 account). However, as there is a 30-day indulgency period for the regular verification, it is possible to use it off-line during 30 days after the last license verification. After this verification period, Office function restrictions are applied.
Q15: Please explain how to use each Office software program. (Setting up Outlook and please provide functional guidance for Word, Excel, PowerPoint, etc.)
A15: Unfortunately, at this information desk we do not provide support regarding how to use the product. Please consult a Microsoft helpdesk for instructions on product usage (please refer to A13).