This page explains the private use benefits of the university's comprehensive contract (EES) with Microsoft Corporation.
You need to register yourself for these benefits (self-signup) to use cloud services such as Teams, Stream, and OneDrive for Business.
However, students who enrolled after April 2021 do not need to sign up by themselves; the university administrator will conduct the registrations (sign-ups). For more information, "Procedure for preparation to sign in to Microsoft 365 and take online classes" (PDF).
If you are a faculty of the university, please refer to the "Software distribution" section of this site to install the products on the university-owned PC, etc. based on the EES contract itself, not as the benefits.
EES Benefits
Members of the University (eligible users) can use the following EES benefits (at no cost):
Microsoft Office on up to 5 personally owned PCs/MACs, 5 tablets, and 5 smartphones per person
Microsoft 365 cloud services such as Teams, Stream, and OneDrive for Business
Details of the benefits: Please refer to the Microsoft page.
Eligible users: Members of the university, emeritus professors, and other people related to the university who have an @u or an @un email address
When you leave the university and can no longer use the @u and @un addresses, you are no longer eligible to use the service and your account will be deleted. Please make a backup of your account during your enrollment period. If you are a hospital staff, please contact someone in charge at the hospital.
It is required to follow "Guidelines for the Use of Information Systems at the University of Tsukuba" (Organization for Information Infrastructure) for using this benefits.
---
Step 1: Register (sign-up) with Microsoft
Before using the benefits, you need to register your e-mail address and password with Microsoft.
(Students who enrolled after April 2021 do not need to sign up by themselves. (as mentioned))
Please follow the EES benefits sign-up procedure.
---
Step 2: Use (sign-in) after signing up
To use Microsoft 365, sign in (log in) to the following Microsoft site with your Microsoft 365 (@u or @un) account.
login.microsoftonline.com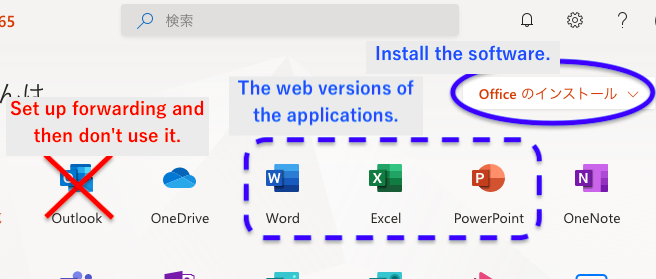 * "Word", "Excel", and "PowerPoint" in this screen are for using the web versions of the applications (Office Online). Also, Outlook will receive notifications from the applications, but will not be able to receive e-mails from outside. Please set it up such as forwarding so that you can read the notifications, and then do not use it. For more information, please refer to the followings:
[How to get and use Office applications]
To download and install the Office app on your PC, smartphone or other device, click "Install Office" in the upper right corner of the Portal screen.
Notes)
・For Windows OS, it is not available from the Microsoft Store.
・For Mac OS, it is also available from the AppStore. (You will need to install the app such as Word, Excel, PowerPoint separately.)
・For Chromebooks, Microsoft does not provide a desktop app version like Widows OS or Mac OS. Please use it as a web app.
・For smartphones and tablets (iOS, iPadOS, Android OS), the software is available from the App Store and Google Play Store.
※If the Office application (Office Home Business, etc.) is already installed and available on the terminal you are already using, you do not need to install the Microsoft 365 Office of this university. However, for reasons such as older versions, if you want to replace Office, you need to uninstall them and then install them.
(Please uninstall at your own discretion.)
Launch the installed Office application (Word, Excel, PowerPoint, etc.)
When the app starts, the sign-in (license authentication) screen will be displayed.
Sign in with our Microsoft 365 (@u or @un) account.
※If you see [the Allow your organization to manage your device] screen, uncheck it and select [OK] or [Sign in for this app only].
If you sign in successfully, you can use the Office app.
If you encounter any errors when signing in, please refer to the FAQ pages listed below under "Getting help".
Getting help
Please refer to Frequently Asked Questions (FAQ) and (FAQ) regarding EES advantages.
Contact
Contact Form
Please select "EES (including Microsoft 365, Teams, Stream, etc.)" as the "Category" and fill out necessary items.